The Beatles Rock Band Website
PROJECT LEAD
PROCESS + JOURNEY
The Beatles Rock Band website was envisioned as a destination for content worthy of a collector's edition box set, complete with behind the scenes content and in-depth context for every facet of the game; from the band members and their instruments to the venues and pivotal narrative moments. Of course, the site also needed to hit the necessary marketing beats and act as a sales driver for the game.
Beginning in February, I assembled the project plan to present to MTV Games and Apple Corp, highlighting content and feature rollouts to coincide with proposed marketing initiatives. This included a teaser site and private hub with exclusive content for pre-order holders in the spring, a press and marketing focused rollout in the summer, and a full launch in support of the game's release in the fall. Wireframes were created to establish product scope and to gain buy-in from key external stakeholders.
By April we had a dedicated team assembled to make the project a reality. With several overlapping timelines and deliverables, the group worked tirelessly through the spring and summer to deliver the highest quality experience for our fans, hitting our critical launch dates each time. As with most small teams, we all wore various hats along the way. In addition to managing the project timeline and user experience, contributions were made to the visual design and front end coding when necessary. I handled ingestion of the site's video content and the development of it's custom video players as well.
The site went live with the launch of the full site on September 9th, 2009, day and date with the game itself. Thanks to the team's dedication, the end result can best be described as a love letter to the most influential band of all time. In the spring of 2010, after three consecutive years with a nomination, the team's achievement would be recognized with a Webby Award. Sadly, the site was sunset in 2016 during a consolidation of the Rock Band brand.
PRE-PRODUCTION
DOCUMENTATION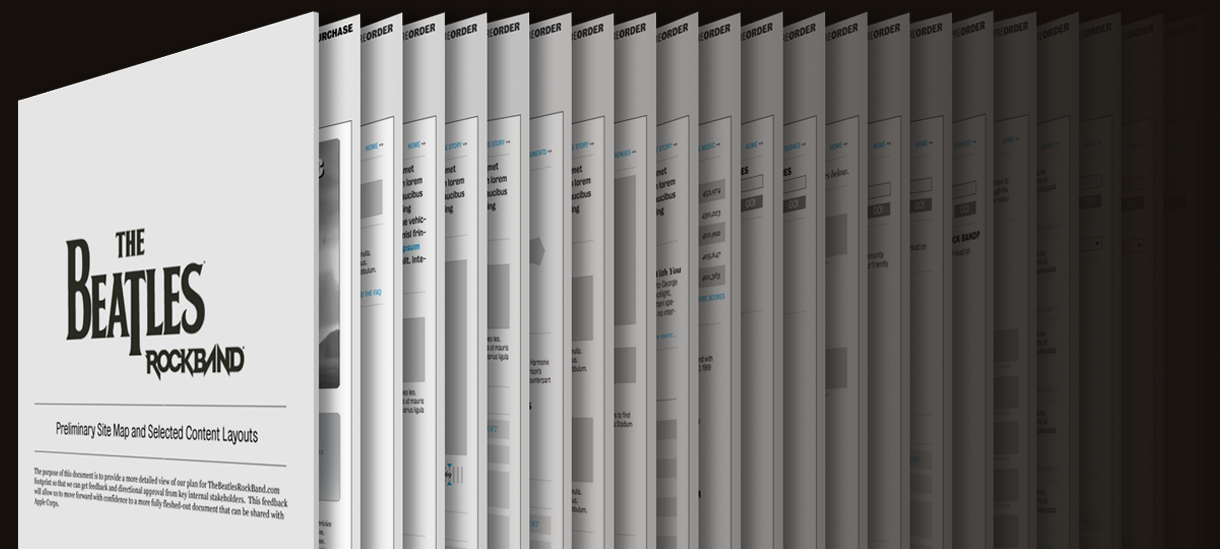 SITE MAPS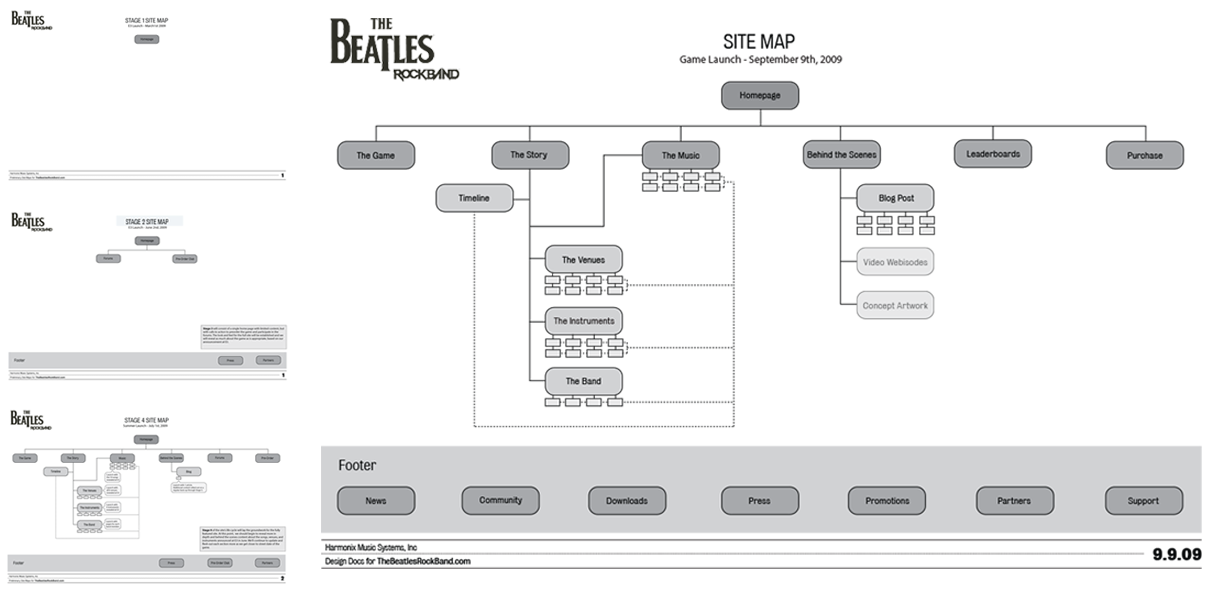 WIREFRAMES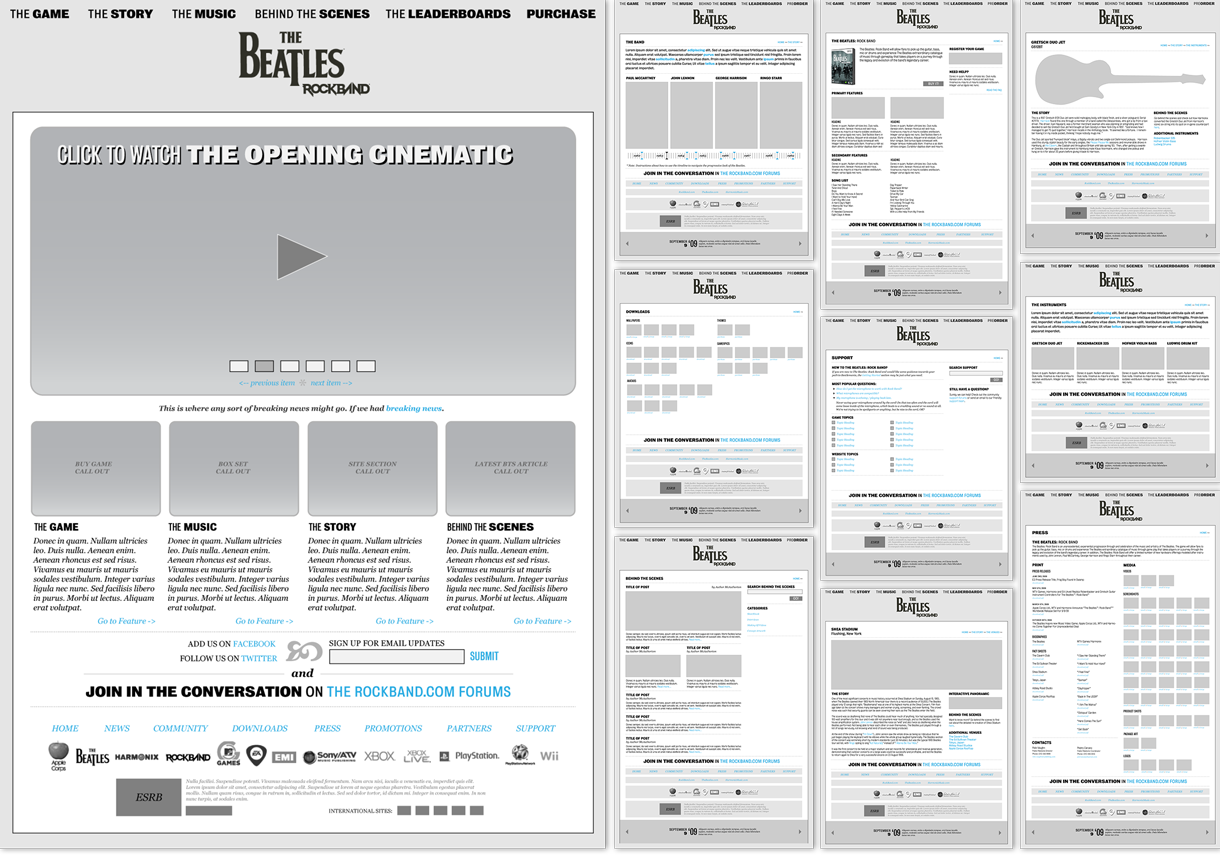 "the website conveys the love, talent, and extreme attention to detail put into the game... we accomplished that with a website that is at once cutting-edge, yet timeless"

- Jeff Chausse, Harmonix Web Director
WEB SITE
TEASER SITE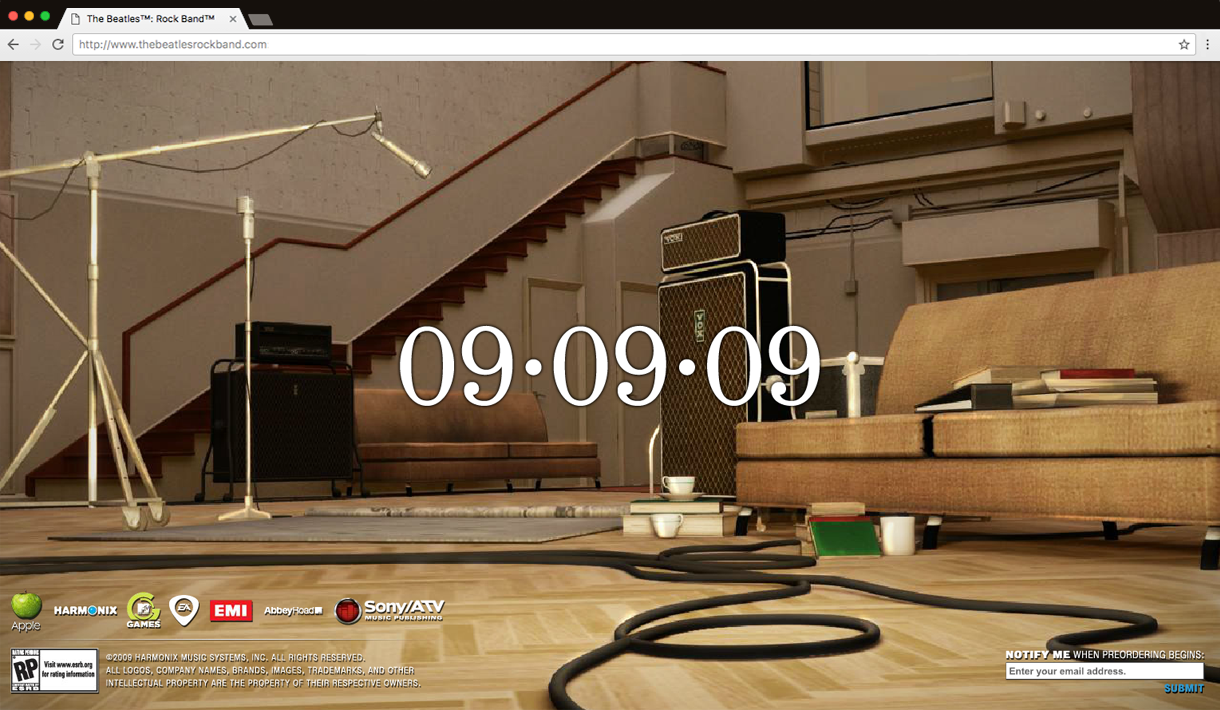 FULL WEBSITE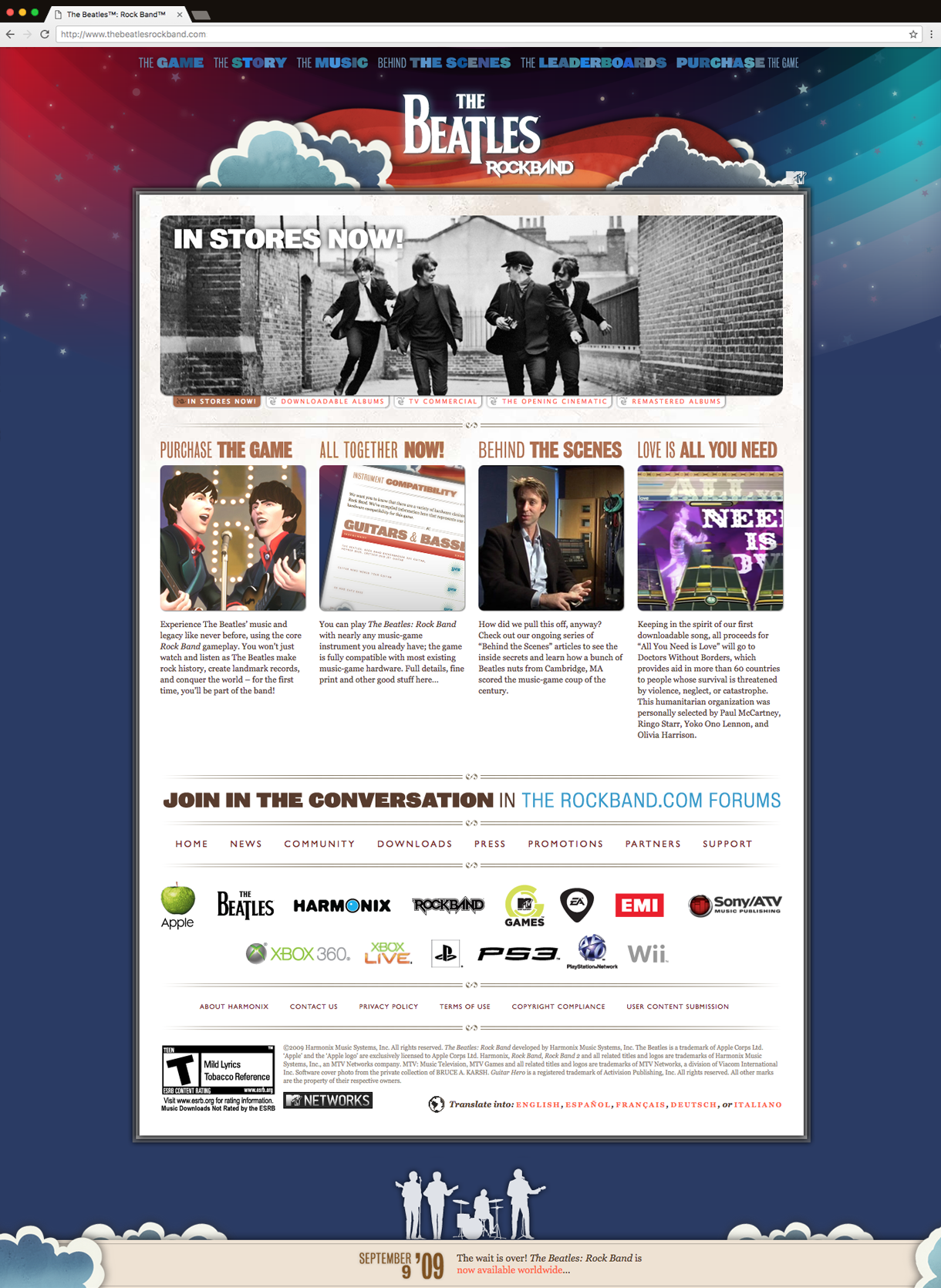 SELECTED PAGES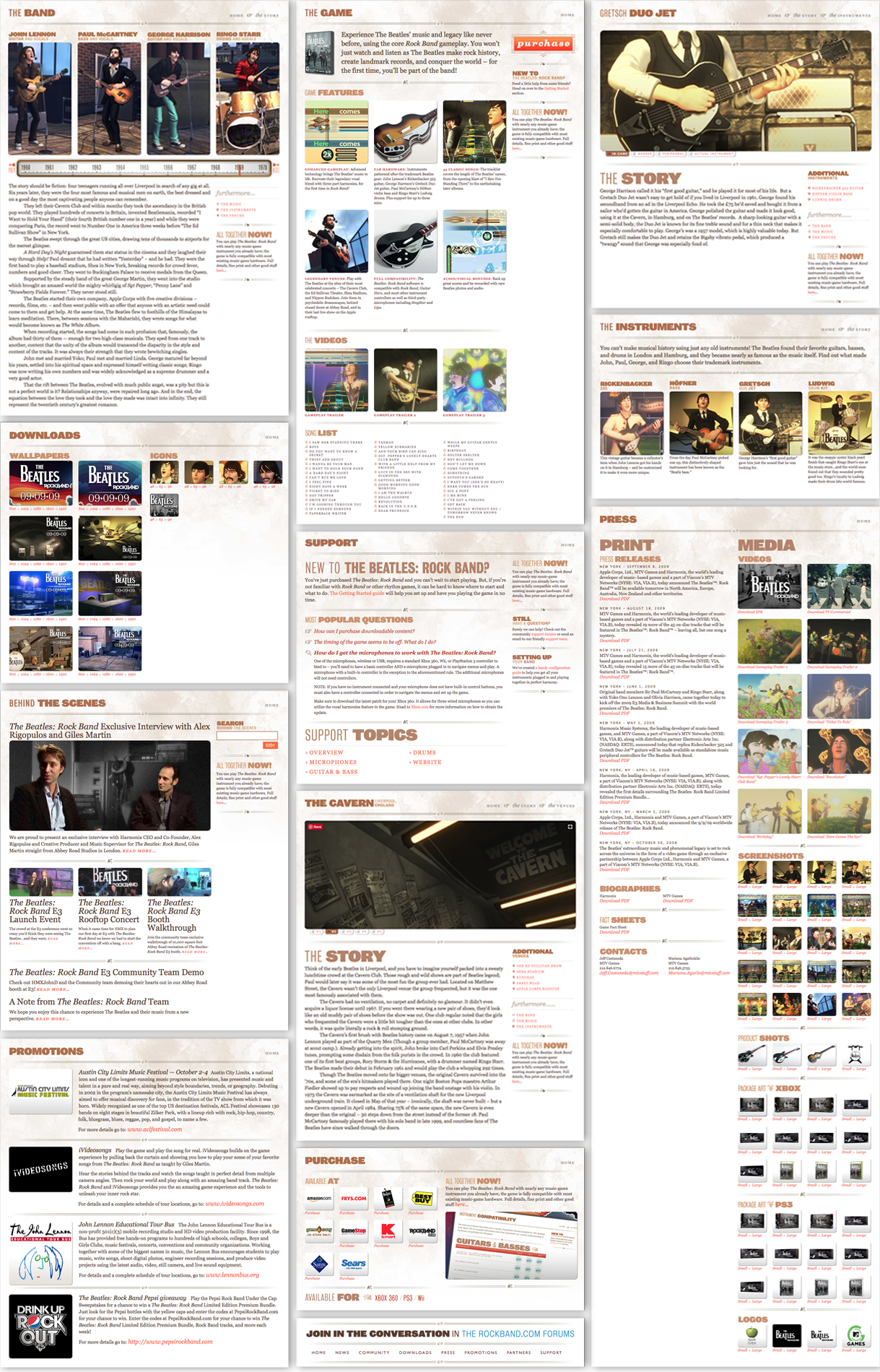 "TheBeatlesRockBand.com is setting the standard for innovation and creativity on the Internet"

- David-Michel Davies, Executive Director of the Webby Awards
TYPOGRAPHY
PRIMARY
SECONDARY

TERTIARY
VIDEO PLAYER
VIDEO PLAYER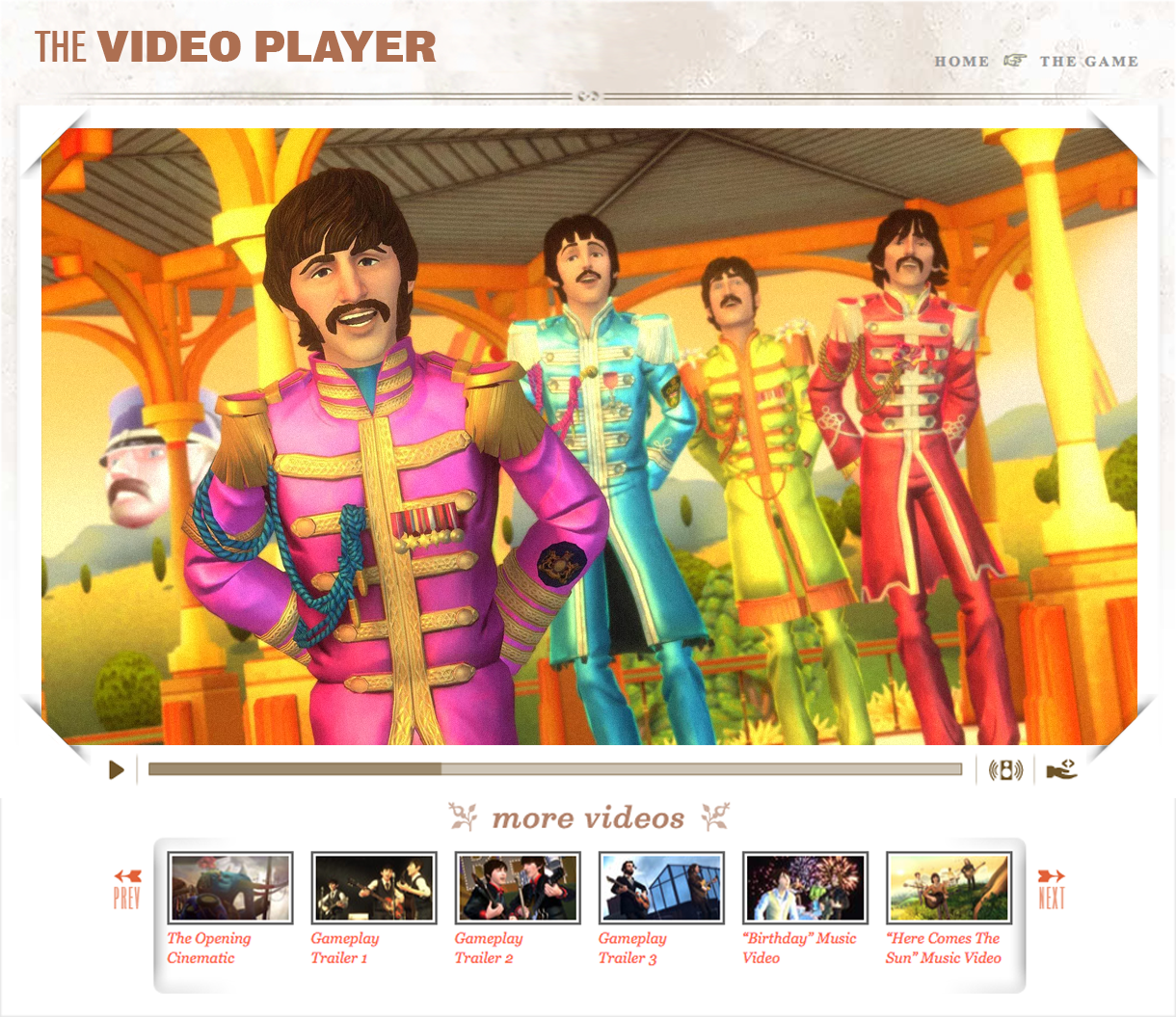 ---
CREDITS + RESOURCES

Visual Design: Rumsey Taylor IV
Front-End Engineering: Abigail Borden
Back-End Engineering: Allison Holt
Content: Brett Milano & Christine Kayser
Production: Fish McGill
Quality Assurance: Jessica Smith, Eric Chon & Brian Noel
Abbey Road Venue: Matthew Moore
PLATFORMS